Lighting Forecast: Frankfurt Light + Building 2022
What happens when LUMA lighting designers are let loose at the world's largest lighting trade fair in Germany? A lot of excitement, differing opinions on the use of alabaster, and blurry photos of Frankfurt pub lighting!
With all jokes aside, LUMA seeks to maintain a design methodology that prioritizes education, technological trends, and industry improvement. The Light + Building Autumn edition focused on all the above. Our Portland-based LUMA designers Anna Winn and Molly Stowe sat down to give us their insight on the 2022-2023 lighting landscape.
"As a whole, the European lighting design approach is very decorative focused: hidden sources and super discrete fixtures aren't as heavily sought after compared to the United States. With different safety regulations and light level concerns compared to the U.S., there's an intentional focus on playful elements while general illumination is layered in subsequently," says Stowe. Even with that observation, both designers elaborated on the decorative lighting trends they predicted would be successful in the states.
"The use of alabaster was everywhere, along with Corten steel, and rough concrete. Shockingly smooth black is taking a back seat and rich brown hues are pushing forward," Winn says. She also points out the use of more sustainable elements such as sustainably sourced wood, braided cord shades, and 3D printed bio-plastics.
As far as decorative tabletop lighting, it's not going anywhere. "There were plenty of adjustable heads and clip-on or removable elements. Not needing to run full conduit or power is always attractive," says Winn. Hover by manufacturer here&now is a unique tabletop solution new on the scene. Designed by Erik Padkjaer Larsen, the battery-powered lamp perched on a 3-legged oak structure is touch operated and aims to be inviting to all your senses. "No one had large knobs or foot pedal controls, sleek and minimal is in," Winn observes. On the other hand, Stowe expressed concern regarding the theft of portable tabletop elements in any public application. "Threaded bases are harder to come by than you'd think. Clients are asking for hardwired options but most often it comes with a hefty customization price tag."
Expanding upon flexibility and customization, Stowe says, "When everyone has similar products, being able to have easy, cost-effective customization will set you apart." The age-old track system is making a resurgence with flexibility in scale, mounting, and form factors being huge selling points. "The Artemide debuted a rigid track with an indirect illumination component. It's a very specific application but a nice change from the veteran limitations track lighting historically had." says Stowe. Similarly, wet-listed, tape-light-esque illuminated track applications were seen from Simes, a sister company to Sistemalux.
One feature the team wished to see more of was the taming of fixture glare. The aesthetic of slim apertures and skinny lines of light are continuing to surge for interior and exterior applications but without glare control how long will they last? Winn elaborated on the struggle with high light levels: "For some manufacturers, the push for efficiency is overpowering the focus on quality of light." Sometimes too much of a good thing swings industry needs in a completely different direction.
After nearly 3 years of event hiatus, post-pandemic design collaboration is more important than ever. LUMA finds immense value in continuing to be a part of the lighting conversation as we aim to be informed designers and industry leaders.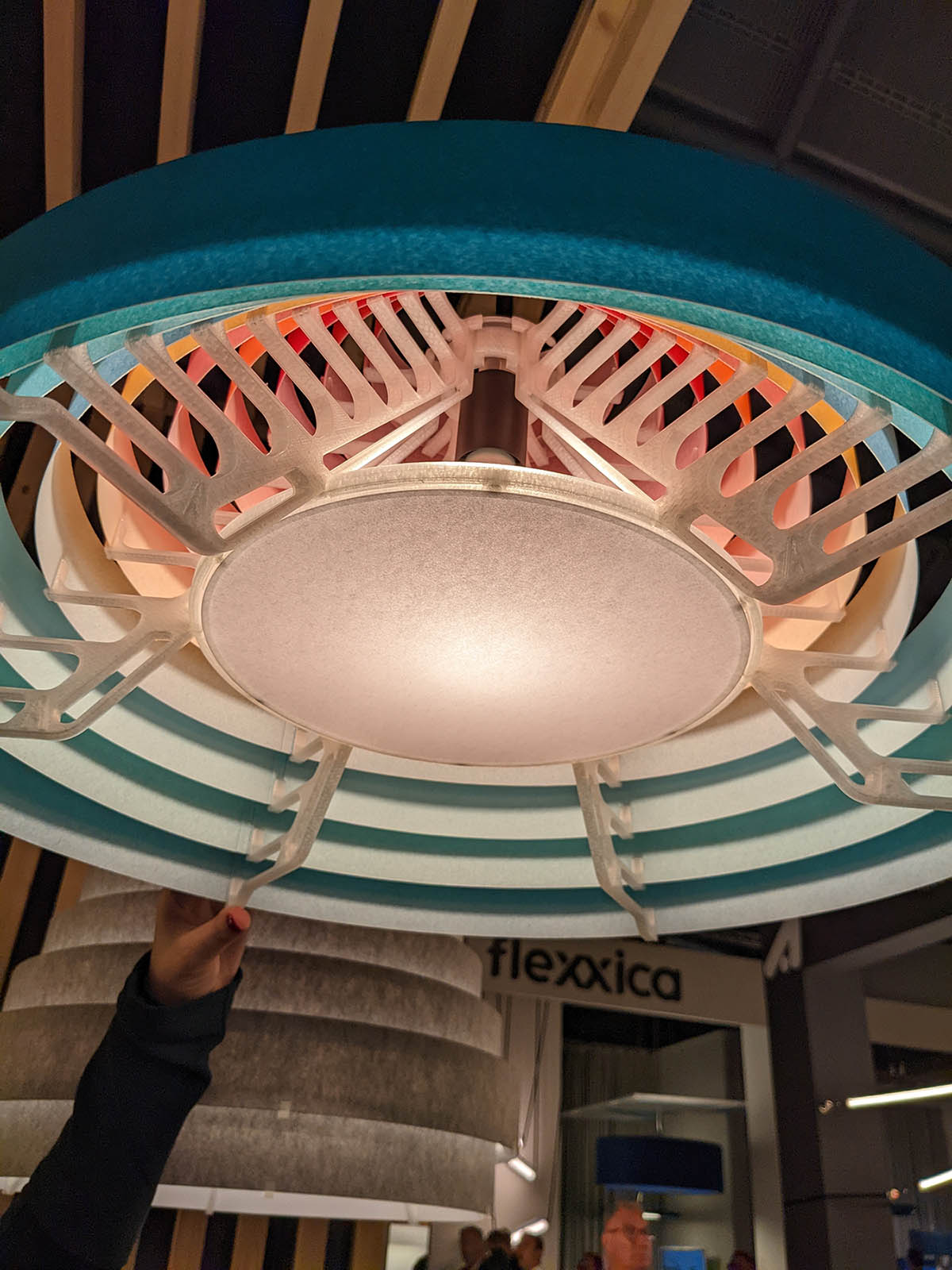 Aclara printed Bio-plastic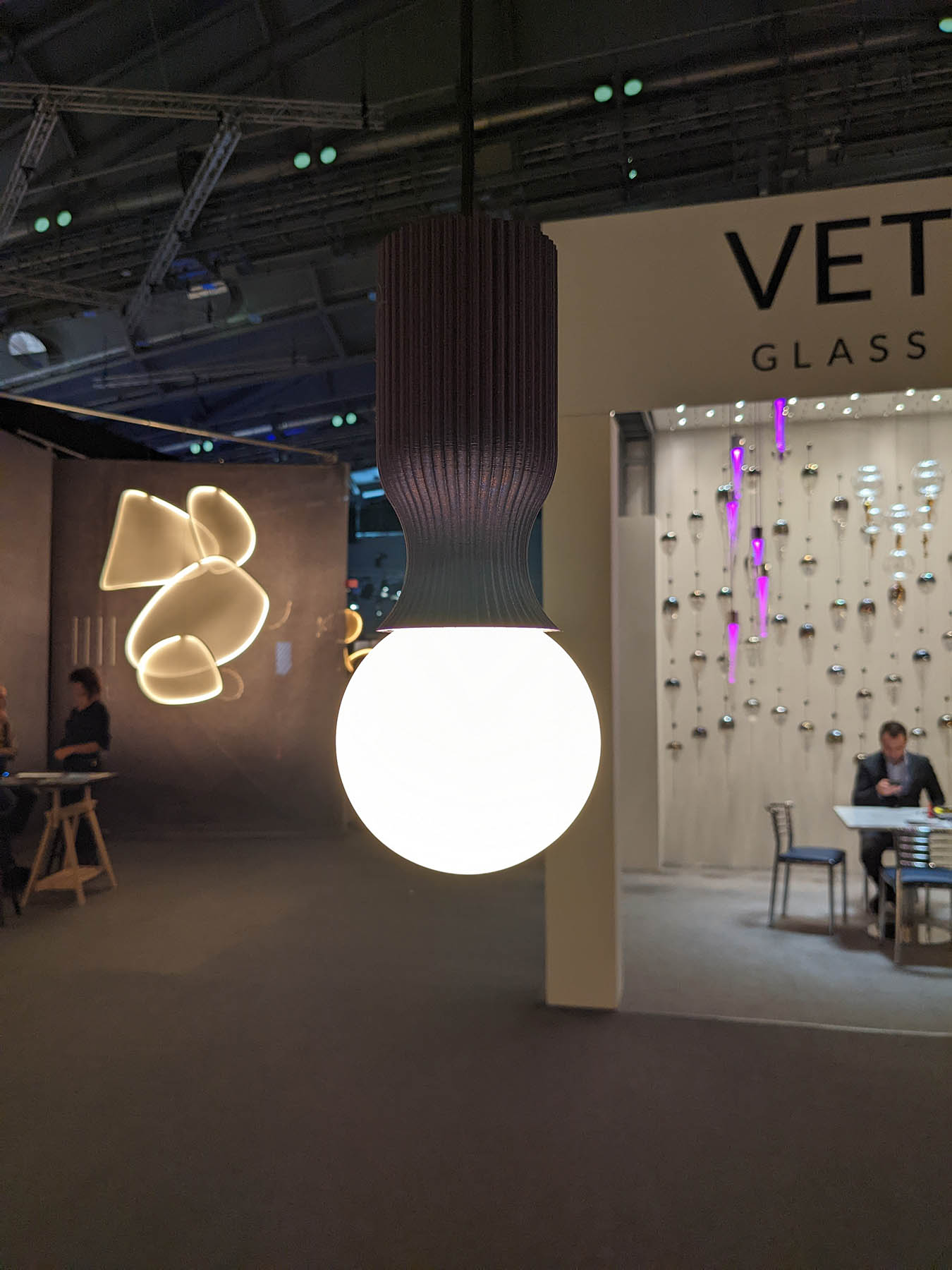 Aclara printed Bio-plastic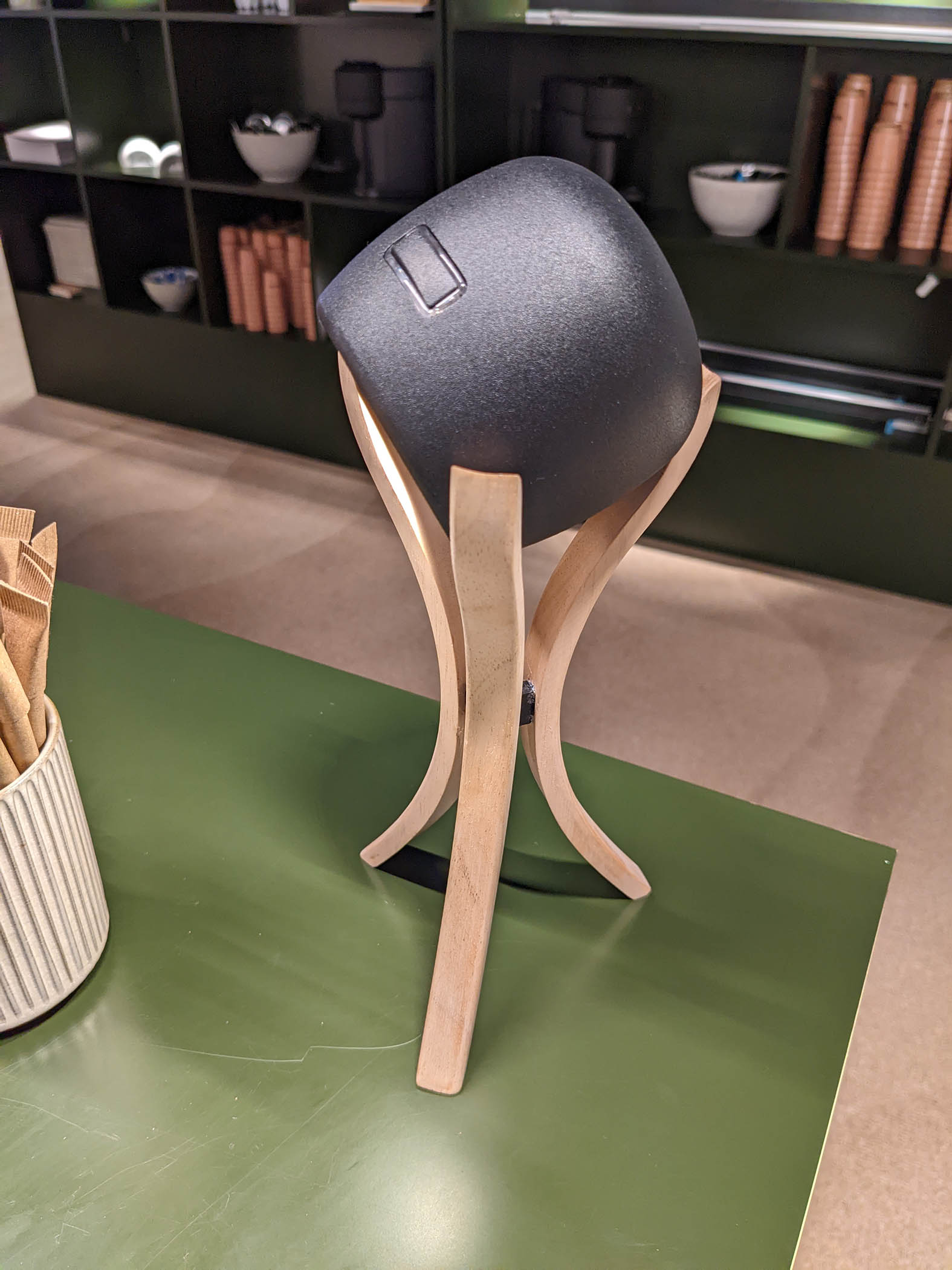 here&now Hover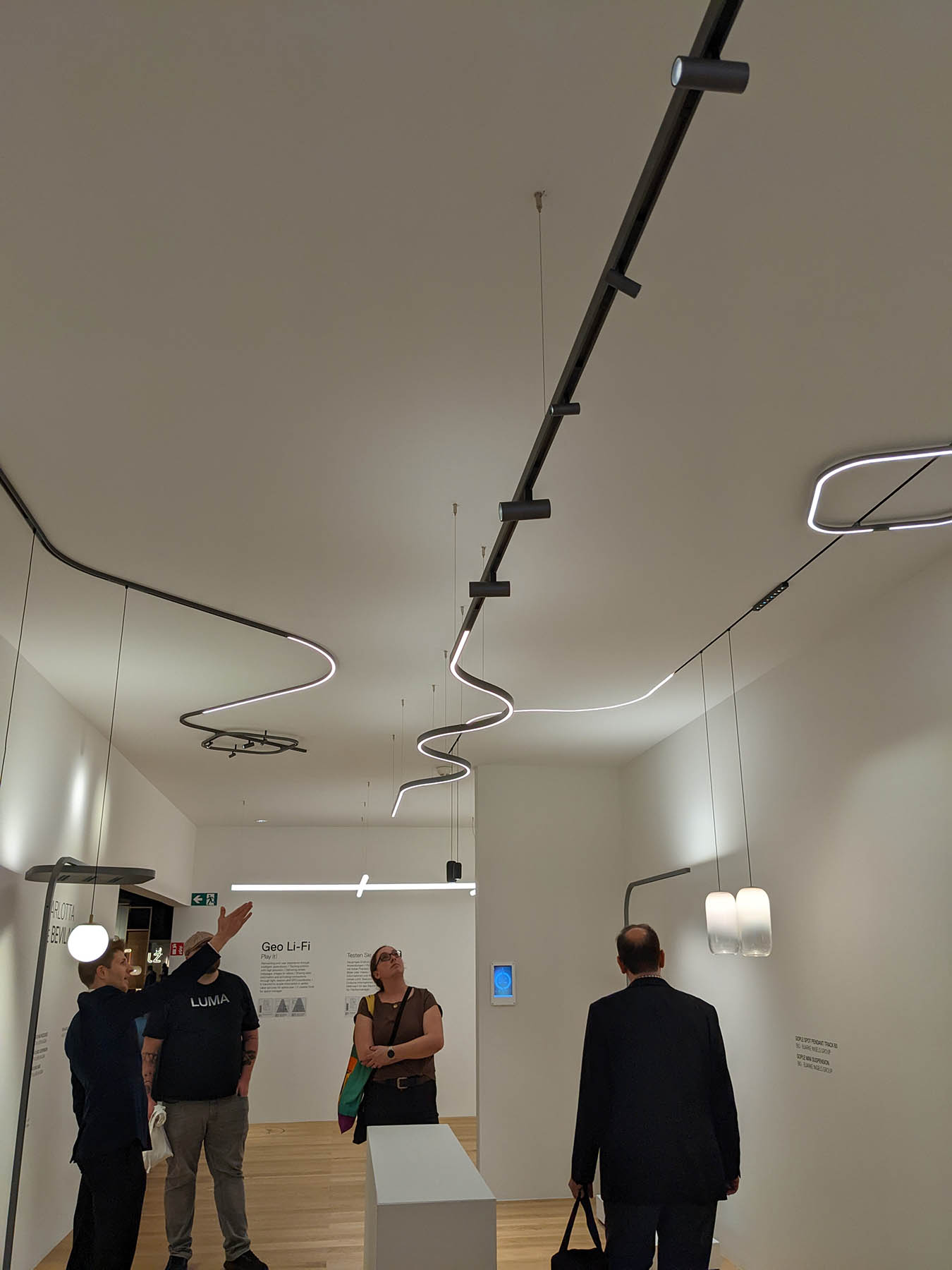 Artemide Track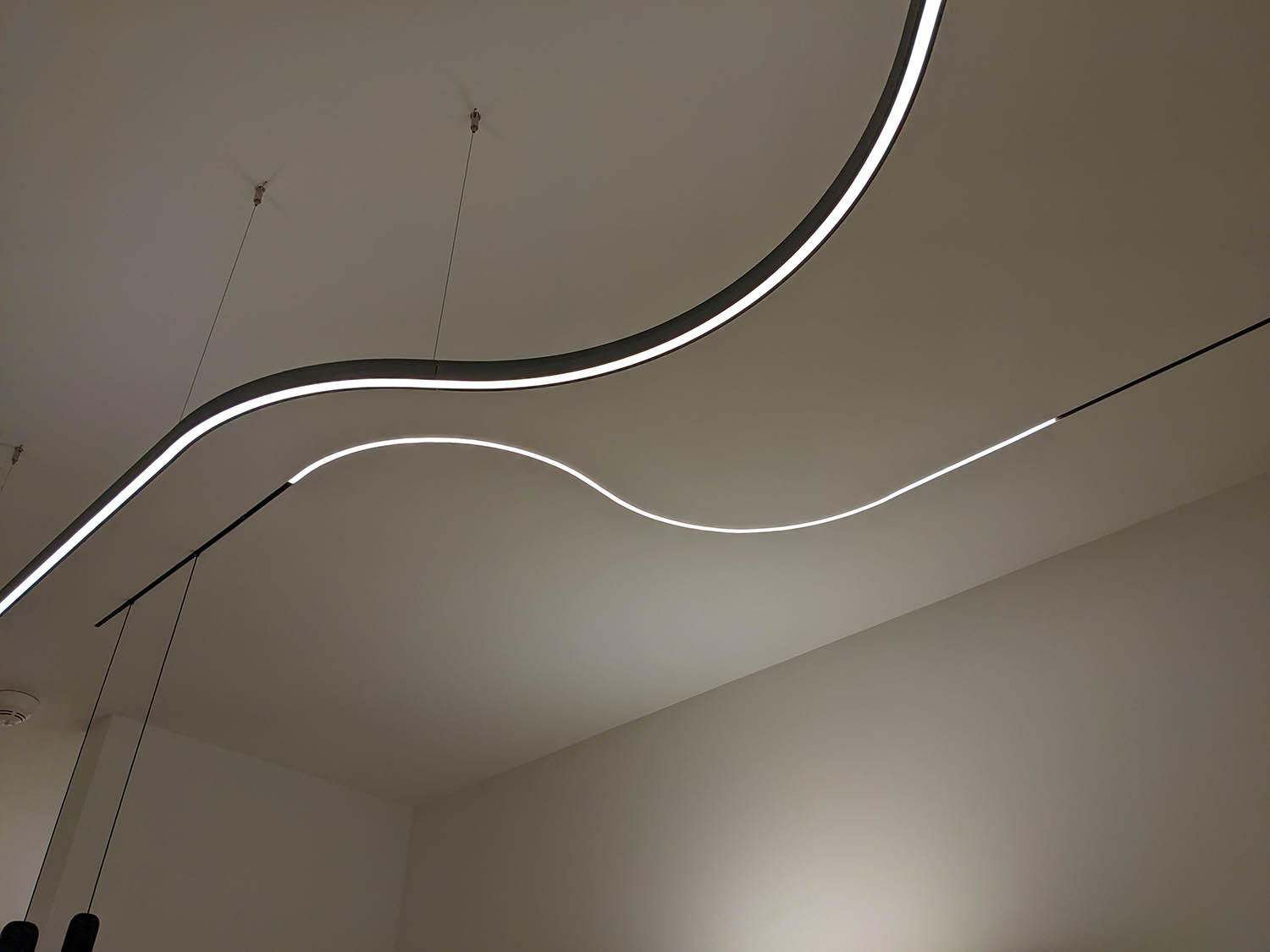 Artemide Track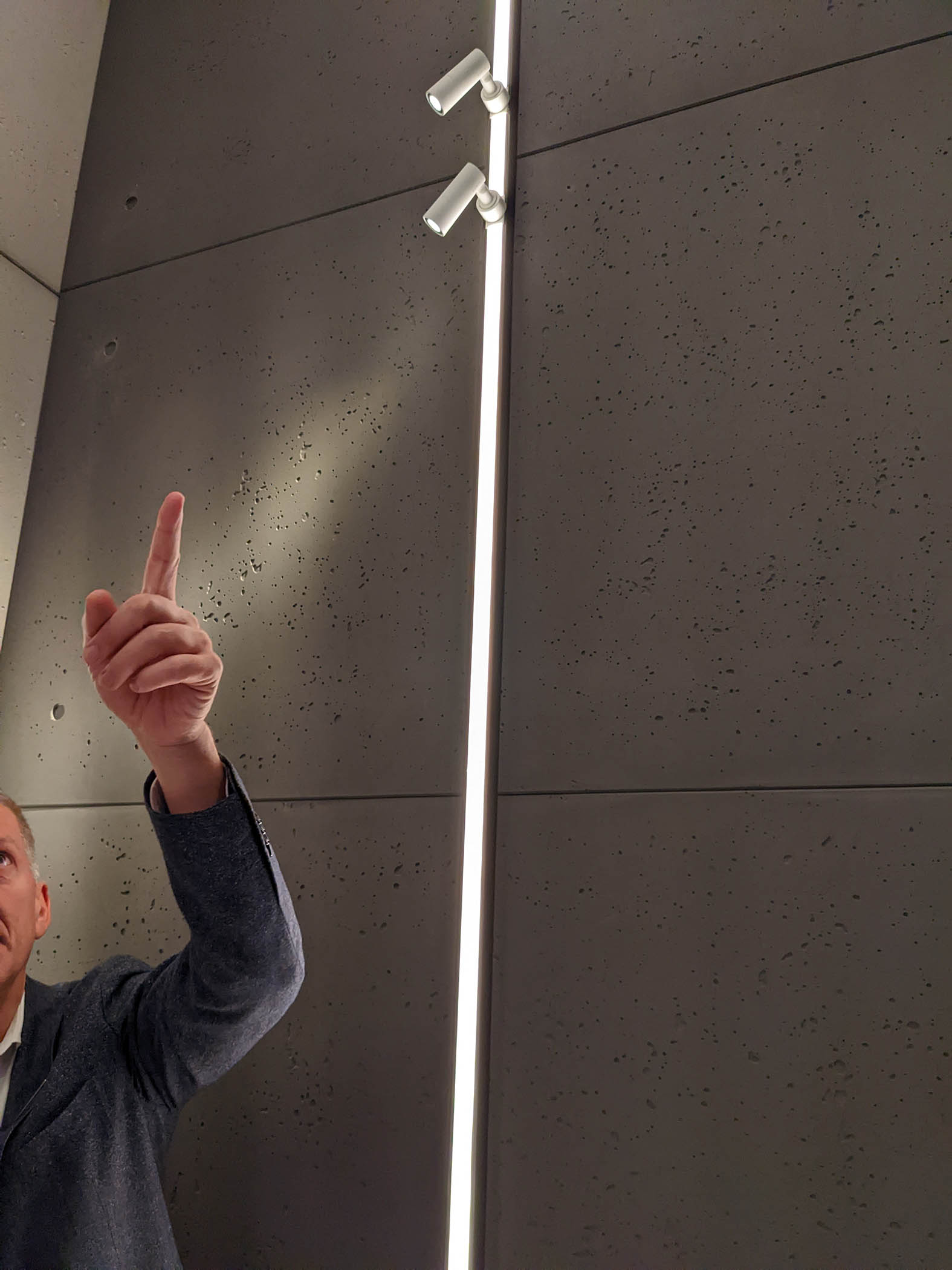 Simes Track